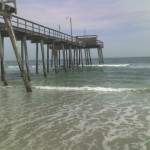 3 days to go- and the temperatures are cooperating.
The ocean is a pretty blue-green color, and looks inviting…for 60 degrees!
Avalon Supermarket (29th Street), Bud's Market (83rd Street), and Clarke's Sunset Market (108th Street) are open for business, as well as most restaurants and retail shops on the island.  There are cars…and people…and lights on in houses- how amazing! 
Hope you can enjoy some time at the shore this weekend, too.