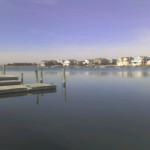 There are 2 distinct groups at the shore:  beach people and bay people.  Similar to your religious or political affiliation- you are who you are.  
Sure, a mixed marriage can work, but eventually one spouse will cave to the pressure and convert.
So you have the bay front owners  fluent in bulkheads, floating docks, and fishing gear…and the other property owners who can't understand why someone would want to live that far from the beach.
I am a beach person at heart, but also enjoy quietly snooping (…I mean kayaking) around the beautiful bay front neighborhoods.  The boats and elaborate water toys are impressive-  sometimes in contrast to a modest cottage.   And the residents are a friendly bunch- everyone waves as I paddle by