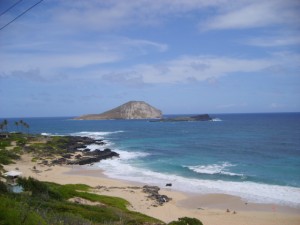 Just like the barrier islands along the Jersey Shore, the islands of Hawaii each have their own distinct character.
Oahu has freeways, high rises, congestion, and rush hour…along with rural areas of beautiful mountains and secluded beaches. 
Living on a low key island here, the busy atmosphere of Oahu was not for me.  Glad to see the landmarks (including the North Shore beaches pictured), and I understand the attraction for those who stay up past 10pm- great restaurants and nightlife.   But not the ideal "Hawaii" for me.