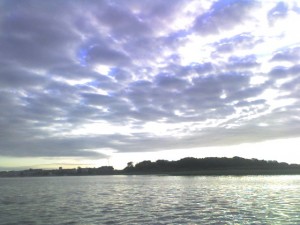 I took this picture with my cell phone and then uploaded it to my Twitter account http://twitter.com/AnnDelaneyBeach while sitting in my kayak.   I see people riding bikes and talking (and texting!) on their phones.  The other day, a woman was walking along the ocean's edge reading from a Kindle; and at the same time, I was in a beach chair checking my e-mail!
The most common amenity request with our rental properties?  Internet connection.  Tenants don't take vacations without their lap tops.
Remember when it was unusual for a rental house to have more than 1 television set?  Now, flat screen sets with HD service are the norm.
It can feel overwhelming to long time rental property owners- the pressure to keep up with the times.  Yet, like any other business, we  must evolve to survive.