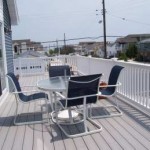 If you keep your house open all winter, these tips from local winter watch house experts will protect your pipes from freezing:
1) Set the thermostat to at least 55 degrees.
2) Open cabinet doors under all sinks to allow heated air to circulate around the pipes.
3) Close the foundation vents and crawl space access panel (cold wind under the house will freeze the exposed pipes).
4) Drain the outside shower and remove hoses from outside faucets.
5) Unless you are in town on a regular basis, it's best to hire a winter watch service.  They will inspect your property several times per month, and take care of any minor items before a major problem develops.