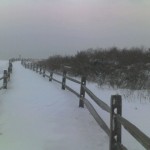 It's been cold and a bit snowy.  And, December is known to be a slow month for seashore real estate.
Yet, there have been 14 settlements to date for the month of December in Avalon and Stone Harbor, NJ.
9 single family homes, plus 5 townhouse style condos SOLD, with a median selling price of $792,500.  In addition, there are 28 properties sale pending with settlement scheduled within the next few months.
These sales provide solid "comps"  for buyers and sellers- to establish or justify current market values. 
If you would like additional information regarding values in specific Avalon or Stone Harbor neighborhoods, please let me know.  ann@anndelaney.com
Thank you for the opportunity to help!