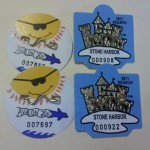 I estimate that only 1/3 of our rental property owners provide beach tags for their tenants; and the number of tags varies based on the owner's own personal use.
If a tenant has rented homes in prior years with beach tags included, they are disappointed to find no tags at the current rental.  I understand their perspective- they paid a substantial rental fee, and are surprised by an additional expense when they arrive. 
As a local resident and taxpayer, I purchase at least 6 tags every summer to help off set the town's cost to maintain and guard the beaches.  I consider this a "user fee".  If my family didn't go to the beach, tags wouldn't be needed (but of course, we do!)
The revenue generated by beach tag sales is used specifically for the care of municipal beaches.  Therefore, it makes sense for all who enjoy the beach to chip in.