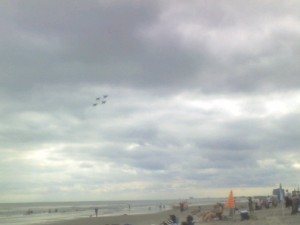 Look, up in the sky!  It's a bird… it's a plane…it's an F-16 fighter jet??
The annual Atlantic City Air Show takes place this Wednesday, 8/17.  A spectator friendly event : everyone has a front row seat along the beach in Atlantic City and Ventnor. Weather conditions this year should be ideal

http://www.atlanticcitynj.com/acairshow.aspx
Depending on the wind direction, you may hear the roar as far south as Stone Harbor- and see various planes fly along the coast to and from the show.