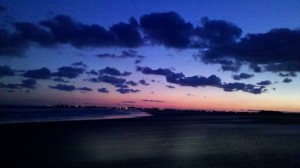 This is my concern:  with the beach permit, will we wimp out of our winter beach walks?
I took this picture Friday night at sunset…from inside the Jeep!  It was windy and cold, but I wanted to watch the colorful sunset and moonrise.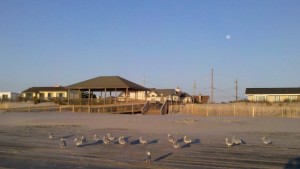 I answered my own question yesterday morning.  As I ventured outside for the newspaper, the moon was still bright over the bay.  The sun was up, so I hurried back out for a long walk along the beach before work.
Will try to find the balance of comfort, and fresh air in the coming months