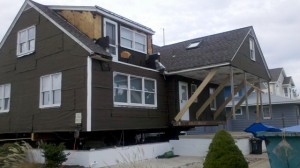 Flood elevation requirements in Avalon and Stone Harbor factor into a homeowner's decision to renovate or build new.
Older structures typically fail to meet the current requirements on 2 key points: crawl space venting and elevation of the first level.  Smart Vents are a reasonable solution for crawl space venting.  Unfortunately, if the first floor height is below code, renovations may be limited.
If a homeowner plans to renovate more than 50% of the value of structure (the tax assessment of the "improvements"), the construction official will require the structure be brought up to code.   This is why some homeowners elect to tear down what looks like a perfectly functional home.
The Stone Harbor house pictured is in the process of extensive renovations…including raising the first floor level to comply with elevation codes.