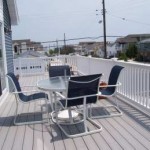 A total of 18 properties in Avalon and Stone Harbor were posted "Under Contract" during the past month- a strong indication of market recovery.
7 are condo/townhouse units-  with a listing price ranging from $369,000 for a 2 bedroom condo in Stone Harbor, to $1,350,000 for a bay front townhouse style in Avalon ( final selling prices are not published until settlement).
10 single family homes are sale pending- ranging from $749,000 for a two story home in Stone Harbor, to $3,595,000 for a newer home on the bay, also in Stone Harbor.  The median list price is $1,722,500.
1 commercial parcel, too- The Avalon Anchorage Marina located over the 21st Street bridge.  Will remain a marina.
Any trends?  The bay front properties are in demand (including the large waterfront parcel included with the marina).  5 of the 18 sales are situated on the back bay.   New or newer homes continue to be the desired summer home- with as many bedrooms/baths as possible!
If you would like sale information for the area, I am here to help: ann@anndelaney.com
Thank you for your continued interest!