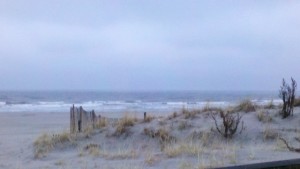 Well, no snow yet in Avalon or Stone Harbor. 
That would have been an improvement over the semi-frozen rain I faced (literally) on my early morning beach walk.
Today's walk  made possible by: a hooded LL Bean jacket with inside pockets to keep my electronics dry, my new hiking boots, and other not so fashionable attire. 
Today's walk motivated by: my followers here and on Twitter 

Have a good weekend.  Will be watching for snow from my office window!