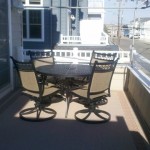 Real estate agents all along the New Jersey coast are optimistic for 2012 after a busy start to the new year.
In Avalon and Stone Harbor, there are currently 37 properties sale pending with settlements scheduled over the next few months.
Breaking down the numbers: 12 of the 37 are condo/townhouse units, ranging from $439,000 (asking price) for a 3 bedroom condo on 79th Street; to $1,350,000 for a large bay front side by side.  The median asking price for pending condo/townhouse units is $644,950.
As typical in our market, the majority of pending sales are single family homes (23 in this case).  They range from $699,999 for a basic cottage on 31st Street; to $3,295,000 for a bay front home on Flamingo Drive.   The median asking price for pending single family homes is $1,299,000.
Also pending: 1 commercial parcel in Avalon, and 1 duplex in Stone Harbor.
Sellers are realistic and buyers are confident; the right balance as our market continues to recover.
2/14/12 P.S.  Setting appointments for a Thursday showing, and 2 of the homes I planned to show are now under contract.  Also heard that there were 3 offers on a well priced duplex in Stone Harbor- pushing the final selling price just over asking.  So happy to see this activity!