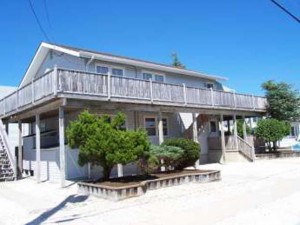 Zoning regulations vary in each shore town.  In Avalon and Stone Harbor, the majority of dwelling units are in a single family zoned location.  This strict zoning results in solid property values and overall lower density.
However, for buyer looking for a traditional "beach duplex", there are options.  Currently, 21 multi-family properties are for sale on the island.  The sale includes the land, and at least 2 living units.  In many cases, the property is non-conforming, which means the structure can not be expanded unless it's converted to a single family use dwelling.
The median price of a 2 family property in Avalon and Stone Harbor is $995,000.   As an example, the duplex pictured above is listed for $850,000 and includes 3 bedrooms, 1.5 baths on each floor.
Keep in mind that the lenders view a duplex as an investment property rather than a second home.  A larger down payment may be required, along with an adjustable rate loan.  Yet for a buyer who would like to spend the summer at the shore, AND collect some rental income, a duplex is ideal.
Please contact me for additional information ann@anndelaney.com  or 609-967-7950 office
Thank you for your interest!