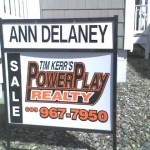 It's an ideal day to focus on the summer.  And our recent sale activity confirms that many families are excited to become shore property owners by Memorial Day!
In the past 30 days:
21 single family homes SOLD in Avalon and Stone Harbor, NJ- ranging from a low of $537,500 for a basic rancher in the 200 block of 20th Street; to $2,275,000 for a 1993 built upside down style home on the beach block of 74th Street.  The median selling price was $1,100,000.
9 condo/townhouse units SOLD- ranging from $367,500 for a 2 bedroom unit located above a restaurant in Avalon; to $822,500 for a 2010 built side by side townhouse style condo on 29th Street.  The median selling price was $650,000.
2 duplex properties SOLD in Stone Harbor (1 building with 2 dwelling units); the median selling price was $722,500.
1 commercial property SOLD- a former art studio/shop on the corner of 109th Street and Third Avenue in Stone Harbor- sold for $545,000.
1 vacant lot SOLD- corner of 17th and Avalon Avenue, Avalon for $999,000.
And,there are an additional 64 properties sale pending with settlement scheduled for the near future.  The median list price for all properties sale pending is $1,097,000.
I am happy to provide more specific data regarding real estate values in the area.  ann@anndelaney.com
Thank you for your interest!