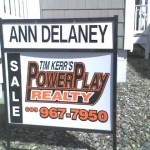 Market stats for Avalon and Stone Harbor, NJ for the past 30 days.
A total of 22 properties SOLD (settlement).
Of those sold, 12 were single family homes, ranging in price from $375,000 for a basic cottage on Bower Court; to $3,255,000 for an ocean front home on 90th Street.
The median selling price for single family homes: $1,178,750.
9 condominium/townhouse units sold- ranging in price from $395,000 for a 3 bedroom condo on 16th Street; to $975,000 for new construction townhouse style on 68th Street.
The median selling price for condo/townhouse units: $705,000.
One sale was categorized as a vacant lot- there is a rancher on the 77th Street property, yet purchased by a builder for land value: $775,000.
In addition, there are 68 properties sale pending!  Most are scheduled to close at the end of our summer(and rental) season.
Please contact me if you would like more detailed market information ann@anndelaney.com      I appreciate your interest!