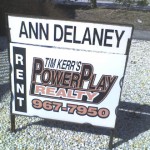 Yes, we are already planning ahead for next summer.
As tenants check out, we ask them if they would like to reserve for 2013.  Although we won't send leases until later in the fall, the property owners are pleased to know their happy tenants plan to return.
The vacation rental business continues to evolve.  This summer, there were numerous requests to allow a dog (or dogs).  And more owners were willing to consider a pet if we had some past experience with the tenant.  It's a huge transition from the strict "no pets" policies of the past.
Most homes and condos are now completely non-smoking; and many no longer supply a land line phone.  Yet wireless Internet is a necessity!
Our biggest issues continue to be with cleaning and trash.  The homes are growing larger (with more baths) and the change over cleaners struggle to thoroughly clean in the short window of time allowed.  By this point in the season, ceiling fans, return vents, outside showers, and grills need more TLC.  It's helpful for owners to make a few trips during the summer to tackle the extra tasks.
With trash- the more containers, the merrier.  Recycling is only picked up once per week; and on vacation, cans and bottles accumulate fast.   The new tenant will complain if all of the receptacles are filled when they arrive- requiring the purchase of additional cans or hiring someone to haul away the trash.
If Power Play Realty can help with your 2013 summer rentals or vacation plans, please let me know.  I appreciate the business!  ann@anndelaney.com