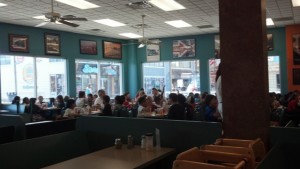 Time to start our off-season adventures:  yesterday it was a bike ride along the Wildwood boardwalk.
We started at the beginning of the boardwalk in North Wildwood-  through the crowds in town for the annual Firemen's Convention- and then along the beach side bike path in Wildwood Crest.
Our lunch break on the way back was at Sam's Pizza.  And, under the category "only at the shore", there was a group of local school children there on a field trip!