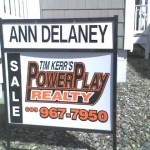 The flurry of sale activity for Avalon and Stone Harbor continues.
During the past 30 days, a total of 43 properties sold (settlement), PLUS an additional 40 are scheduled to close in the near future (many by the end of the year).
The median selling price overall was $890,000 (all categories).
The majority of sales- 29 single family homes; ranging from a small cottage over the 21st Street bridge selling for $417,000; to a large bayfront parcel on Heron Drive selling for $5,850,000.  The median selling price for all single family homes was $1,563,333.
A total of 9 condo/townhouse units sold, ranging from a 1 bedroom unit at the Concord for $280,000; to a side by side style townhouse on 29th Street for $840,000.  The median selling price was $435,000.
There were 4 multi-family units sold- all in Stone Harbor.  The median selling price for the mulit-unit properties- $525,000.
One vacant lot sold for $675,000 at 11th and Dune Drive in Avalon.
Of the 40 properties sale pending, the median asking price is $995,000 (final selling price posted after settlement).
If you would like additional information regarding buying or selling in Avalon, Stone Harbor, please let me know.  I appreciate your business!
ann@anndelaney.com