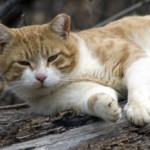 Last night I was reading about various vacation options for the fall (always planning ahead); with one island bragging about the numerous sea turtles found on their beach.
I was thinking about that article this morning as we walked along the Avalon boardwalk, and spotted our famous wildlife: feral cats!  Are we missing a marketing opportunity??
Feral cats were once just an Avalon Manor legend (with stories similar to those of the Jersey Devil and Big Foot). Then somehow, the gang of felines found their way across the bridge to gather under the boardwalk.
Today, the cats are well fed by volunteers, and neutered to limit their numbers.  They will occasionally startle a walker on a quiet winter day, yet for the most part, keep to themselves around the Community Hall or in sunny spots along the dunes.