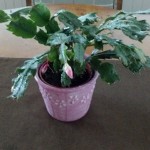 Even my Christmas cactus is confused!
Unfortunately, March is famous for unsettled weather (especially here at the shore).  Last year at this time, I was paddling my kayak out on the bay!  Hoping for a warm up soon…
So far, our "snow event" is mostly rain, with a few renegade snow flurries passing by my office window.
The forecast looks MUCH better for the Easter weekend