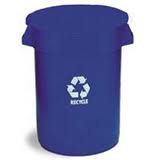 As of April 1st, Avalon, Stone Harbor and surrounding communities will participate in "Single Stream Recycling".
This means that all acceptable recyclable items can be placed in ONE container.  Realistically, most shore homes will still need several recycling containers (especially rental properties) to accommodate the items.  Containers are limited to a maximum size of 32 gallons, and may not exceed 75 pounds.
The list of permitted items has been expanded, too.  Please provide detailed instructions to your tenants/guests.
For more information, visit the web site of the Cape May County Municipal Utilities Authority