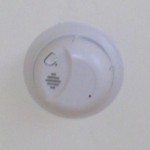 FYI- the code inspectors check the manufacture's date on smoke detectors.
If the detectors (hard wired or battery operated) are more than 10 years old, replacement will be required in order to pass inspection.
Even for those not renting, it's helpful to know that smoke detectors have a 10 year life span.  If you experience random beeps after swapping out the battery, and you believe the detectors are at  least 10 years old, better to replace all of the units at the same time.
For hard wired carbon monoxide detectors, the life span is only 5 years.