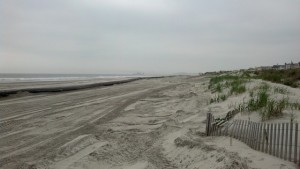 Beach fill progress: sand pumping and grading, and actively building a new beach on 113th Street as of this morning. The equipment and crew members will steadily move north until the project is completed.  Beaches south of 115th Street are open, and sand  paths will be built over the rubber pipe that carries new sand to the beaches.
For more info: www.dredgingtoday.com/2013/05/21/usa-stone-harbor-renourishment-moves-ahead/
Foodie news: although Bradley's Steaks moved to 83rd Street and Third Avenue, their former location will continue to offer sandwiches and cheese steaks to the hungry south end crowd. Sunset Steaks & Shakes will join Clarke's Sunset Market next door.  108th and Third Avenue.