We continue to see strong buyer activity for properties in Avalon and Stone Harbor, NJ:
During the past 30 days, a total of 25 properties sold (settlement), with the median selling price of $797,000.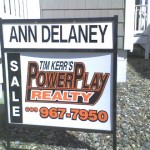 Residential (single family) homes make up the majority of the sales.  There were 13 homes sold, ranging from $640,000 for an older 1.5 story home on Harbor Avenue in Avalon with nice bay, wetlands views; to $3,750,000 for a new, 4,000+square foot custom home located on an oversized lot in Stone Harbor.  The median selling price was $1,795,000.
9 condo/townhouse units sold, ranging from an efficiency unit at the Beachcomber Motel/Condo for $165,000; to a newer 2 level unit located above Complete Interiors on Dune Drive for $755,000.  The median selling price for condo/townhouse units was $587,500.
2 multi-family properties in Stone Harbor sold, both for basically land value.  One on 100th Street for $750,000; and the other on the corner of 104th and Second Avenue for $1,100,000.
1 vacant lot sold on 41st and Ocean Drive for $600,000 (although several of the residential sales were also technically "land value" sales).
In addition, there are 86 properties sale pending, with settlements scheduled within the next few months.  The median list price for all properties sale pending is $1,092,000 (final selling prices not posted until after settlement).
Please contact me if you have any questions regarding real estate values on the island.  Thanks!  ann@anndelaney.com