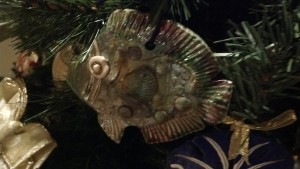 Our Christmas tree features the typical treasured ornaments: Â First Christmas Together, Baby's First Christmas, First Christmas in New Home, handmade ornaments from our sons' early school years, and now those from our grand children.
Mixed in among the traditional decorations are souvenirs from our travels. Many are hand made local "art" (the Maui fish for example), with a few touristy gift shop items when unable to find a suitable ornament.
The Christmas tree truly represents our good fortune…and I look forward to adding a new ornament or two in 2014.