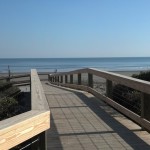 Planning vacations and traveling provide valuable learning experiences that I bring back to my job.
For example:
1) The Repeat Visitor.  Returning to the same location year after year is the vacation equivalent of comfort food.  Tenants know their way around- from where to grocery shop, to the best place for coffee. There's no learning curve…it's easy. And, the familiar sights are tied to many happy memories.  The Jersey Shore is known for exceptionally loyal, repeat visitors.
When vacationing in one of our "repeat visitor" locations, we don't feel like tourists.  In fact, we may even help newbies with directions or information

2) Vacation Rentals. When it's my turn to search for a house or condo to rent, the advice I give to property owners is reinforced. Capturing tenants' interest and accurate pictures are a must.  I will click through photos BEFORE I read the description.  If the property is not appealing, I'm on to the next choice.  And like most tenants, I don't want rustic and cluttered. Charming is fine…yet with newer kitchen and baths!
3) Inconvenience. Time off from work is a BIG deal.  Coordinating family schedules, making the arrangements, and paying for vacation- all very stressful.  So if something goes wrong, it's upsetting.  A tenant wants to know that someone cares, and is working on making it right.  They don't want excuses- just a solution.
4) Social Media.  The Internet drastically changed the vacation rental/travel industry.  All good, except we lost much of our personal contact.  Social media allows us to connect in a new way- which is why I'm a huge fan of Twitter.
Already looking forward to my next vacation/learning experience (after the busy summer season of course!)