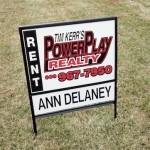 Tenants arrive, unload their cars, and then try to figure out the mechanics of their vacation rental.
It would be wonderful if all property owners posted a welcome note with basic instructions for the wi-fi, electronics, thermostats, etc.  Every home is different- and most have a few quirks.  Knowing these things while settling in prevents frustration, and is a positive reflection on the home owner.
Tenants are more likely to care for a property if they feel accountable to an owner (not just an investor).