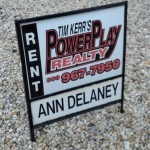 Great weather, warm water, and discounted rental rates.  Search the Power Play web site:  Click HERE
We have a specific cancellation that I'm trying to re-book so that the tenant can receive a refund:
300 79th Street #10- Cambridge Green condo with 3 bedrooms, 2 baths, porch, and a private deck.  Great pool on site!  Available 9/6 through 9/20 for $1750 total for the 2 weeks- an excellent value!  For pictures and more information, click HERE.
Thank you for your interest!   ann@anndelaney.com