A common subject of conversation this time of year: a home is demolished; and we have a hard time remembering what was there just a few days prior.
The other day, I actually searched on Google Maps (the street view function is amazing!) to see what was torn down on 70th Street…I just couldn't picture the house.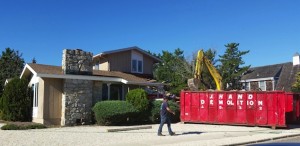 Today's demolition is a different story- a home on Bayberry Drive custom built by my aunt and uncle in the 1970s as their full time residence.  It was showplace for that era- truly ahead of the times with a unique floor plan and upscale amenities.
Now, a new owner will create their special showplace on the site.
And I will have no trouble remembering what was there before…