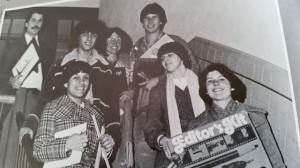 Yes, I was the yearbook editor in high school…the ultimate nerd!  Probably why I enjoy posting on my blog and Twitter now.
Last night, there was an informal reunion for my class at Wildwood Catholic High School.  35 years…yikes!
Interesting to listen to the conversations about grand children, retirement, and sadly, the death of several classmates.  Some had not been back to the area since graduation…and others never left.
We pulled out our drug store reading glasses to look at the pictures…and, laughed at the hair dos and clothes.
A diverse group, all leading full lives.  Sister Henrietta would be proud!