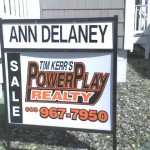 Sales (settlement) during the past 30 days:
19 single family homes, ranging from a cottage on Bower Court in Stone Harbor selling for $499,000; to a modern bay front home on Fourth Avenue in Avalon for $3,500,000.  The median selling price for single family homes- $1,485,000.
8 condo/townhouse style units sold, with a median selling price of $712,500.
A total of 7 properties labeled as vacant land or multi-family sold (several had existing structures demolished shortly after closing), with a median land value selling price of $1,100,000.
In addition, there are 60 properties posted as Under Contract, with settlements scheduled for the near future.
If you have any questions regarding sale values in the Avalon, Stone Harbor area, please ask!    ann@anndelaney.com