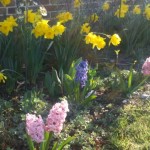 The island is returning to life.
More lights are on in my neighborhood. Beach tractors are grooming the sand.
The trees in the business district are blooming. Â Lawns are manicured, and flower beds mulched.
Beach tags booths are open. Outside furniture is upright on sun decks.
We are ready!