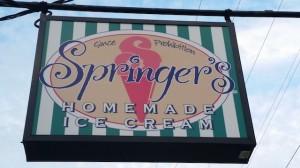 Food is a popular topic of conversation at the shore.
During the winter months, our options are limited.  So when we see "Opening Soon" signs pop up around town, we know summer is just around the corner.
Like celebrities, many island food establishments are easily recognized by just one name: Springer's, Kohler's, Mack's, Fred's, Buccaneer, Conover's, Nemo's, Fuze, Sylvester's, Quahogs, Tonio's, Circle, etc.
Thankfully, the longer days and improving weather allow for more opportunities to burn off the extra calories!