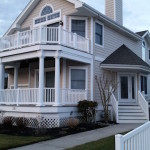 Should you ride down and check your shore house?  YES
Even if your property is not located in a flood prone area, the entire island experienced high winds and an extended power outage last weekend.
Important to:
1) Make sure your heat is functioning properly
2) Check your yard for debris or damage from flying objects.
3) Locate your wayward trash cans
4) Place any water logged items to the curb for a special bulk trash pick up
Plus, the weekend weather forecast looks perfect for a beach visit!