Shore property owners should secure their homes in advance of the weekend storm.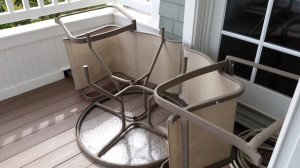 Deck furniture, gas grills, flags, wind chimes, hanging plants,  and trash cans  are all potentially dangerous flying objects!
Also, be sure to close and LOCK all windows and doors. Casement type windows (that crank open/close ) especially- I've seen them vibrate open from high winds,  and then break.
If you will be here during the storm, pay attention to the tide schedule to come and go from the island.  It's not unusual for the access roads and bridges to be closed due to flooding around high tide.
Use caution with parking your car in the street. A driveway offers better elevation from flooding and protects your vehicle from items blowing around (see trash can reference above!)
Will post updates here and on Twitter all weekend.