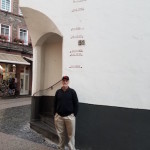 Flooding- a common topic as we toured the charming villages along the Rhine River.
Tour guides pointed out the water levels from historic storms, and talked about the practical preparations of shop keepers and residents during a flood warning.
And although they didn't minimize the devastation or damage, the guides were quick to point out that residents deal with it, and continue on with their lives.
The reality of life by the water!