An older cottage was torn down this week…the original home for my grandparents when they moved to Avalon in the 1950s.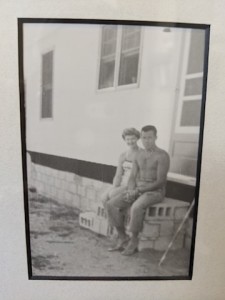 The house was constructed with the help of their children (pictured- my parents, before they were parents, on the job site!)
I was able to walk through the house while it was for sale (owned by a different family since the mid-90s) and remember childhood moments as I wandered room to room.
As a real estate agent, I noted the structural issues along the foundation and the obsolete amenities.  It was an obvious tear down even as I reminisced with my buyers.
One fun memory: my introduction to public transportation…such as it was in Avalon

My grandmother and I would walk to the corner of 25th and Ocean Drive to catch the bus to Ocean City.  This was a BIG deal.  Our full day adventure included shopping at Stainton's Department Store and lunch on Asbury Avenue.
Change is inevitable. I know I'm so fortunate to have a lifetime of island memories.