First report today from a neighbor of an unoccupied home- water leaking from the outside shower due to a frozen pipe!
Reminder:
A check list for shore owners: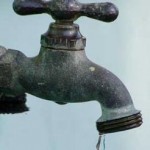 1) Disconnect the garden hose and turn off/drain any faucets that aren't frost proof (most faucets on decks are NOT frost proof). Turn off and drain the outside shower (often overlooked and those pipes are the first to freeze and break).
2) Close the foundation vents and secure the crawl space door (the newer Smart vents will close automatically).
3) Secure/store trash cans, deck furniture, kayaks, grills, flags, etc.
4) Unless you completely winterize the house (drain the water), turn on the heat to 55- 60 degrees.  The upper floors can be set slightly lower, but not below 50 degrees.  A whole house water shut off valve is an extra level of protection against frozen pipes in the event of a power failure.
5) Open the cabinet doors below all sinks to allow heated air to circulate around the pipes.
6) Lock all windows (especially casement style that open with a crank handle) and sliding glass doors. Strong winds can vibrate a door or window open!
7) Unplug small appliances.
8) Check the kitchen sink for any random food items left in the garbage disposal – run with ice cubes or a piece of lemon.
9) Empty and turn off the ice maker if you won't be using the house for an extended period of time.
10) Open the lid on the washer and prop open the door to the dishwasher to avoid musty odors.
And ideally, hire a winter watch service for peace of mind.  I am happy to recommend someone if needed.