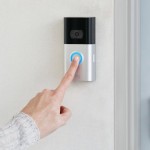 Electronic keypads, Ring doorbells, security cameras, and Nest thermostats…all innovations to make our homes "smart".
Yet how do we balance these conveniences with the right to privacy for summer tenants?
As a rental agent, I appreciate an owner's ability to remotely reset a thermostat if the previous tenant accidentally changed the settings.  And a touchpad entry is practical for tenants (no keys to lose on the beach!)  Side note: there should always be a key available locally in the event the keypad/battery fails.
Last month, we stayed in a rental cottage in North Carolina while attending a family graduation. The home had a Ring doorbell, keypad entry, and security cameras on the 2 outside patios.  It was odd knowing that the owner could hear our conversations as we entered the house, as well as watch us as we hung out in the back yard.
I'm in and out of homes all year round.  If I see cameras or a Ring doorbell, I wave so the owner knows it's just me

But tenants don't want to feel like they are being monitored by the landlord.
As always, we must adapt to new technology while understanding the concerns of owners and tenants.