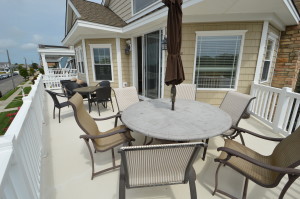 We are about half way through our summer rental season, and many properties need some extra attention in order to meet the expectations of incoming guests.
1) More detailed cleaning of the ceiling fans, return vents, mattress pads, quilts, and throw rugs. The change over cleaners do not have time to handle these extra tasks.  The number one tenant complaint this week was stained bedspreads and mattress pads.
2) Clean the outside shower- removing any old soap and shampoo.  Scrub accumulated mildew from the walls or floor.
3) Check the condition of the outdoor furniture.  Sweep excess sand from patios and decks.
4) How are the trash containers holding up? Replace broken cans, and rinse out the others.
5) Clean the grill and empty the drip pan (built up grease is a fire hazard).
6) Restock the necessities- clothes hangers, basic cleaning supplies, and some paper products.
7) Quickly inventory the kitchen for adequate glass and dish ware.  Wipe out the silverware drawer and around the kitchen trash can area.
It's always worthwhile for property owners to visit mid-season to tackle these important items.