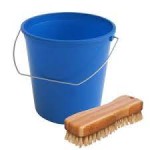 For over 40 years (gulp!), I have handled summer rentals in Avalon and Stone Harbor, NJ.
Although property issues have evolved with the times, cleaning issues remain our number one challenge.
Each local service has a full roster of homes to be cleaned within the 4 hour window between departing and arriving tenants. One hiccup (someone on the crew doesn't show up for work, a home is left especially dirty, etc.) and the cleaners quickly fall behind.
By the time the August guests arrive, rental properties are often in need of some extra TLC.
Ideally, rental owners should be on site for one or two change overs each summer to handle these tasks:
Outside shower (toss used soap and shampoos, spray with cleaner and hose out the sand)
Deck/porch furniture (scrub off mildew and food crumbs)
Patios and decks (hose off the sand)
Clean the gas grill grease drip pan (major fire hazard when full)
Change the AC filters for better efficiency, and vacuum the return vents
Launder all mattress pads and bed quilts
Wipe off placemats
Check the condition of the inside and outside trash and recycle containers (replace, and/or wash out if needed)
My go-to supplies as a landlord are Dawn Dishwashing Detergent and Spray Nine Heavy Duty Cleaner (removes mold better than a bleach spray).