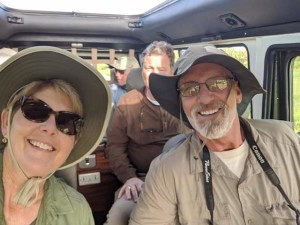 In December of 2019, we took a "once in a lifetime" trip to Kenya.  Planning our amazing safari adventure began 2 years prior, and required plenty of preparation.
Vaccinations, malaria pills, and just in case antibiotics were needed.  Clothes were sprayed with Permethrin to repel insects. Lists of foods considered safe to eat were reviewed.
We returned home just before Christmas of that year with exciting stories; and frankly proud of ourselves for staying healthy the entire time by following the guidelines.
And then came 2020…
Of course we worried about infection and illness while traveling in Africa.  Yet never anticipated the fear from Covid just a few months later.
Fast forward to summer of 2021.  After a particularly hectic work day, I scrolled through the web site of our travel company.  The agent was hosting a safari again in 2022!
We decided that our "once in a lifetime" event deserved a repeat.
Visas, passports, meds, and our Covid vaccination cards are ready to go!   Will post pictures on Twitter: @anndelaneybeach