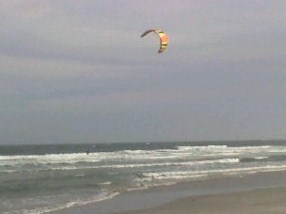 Not your traditional Easter activities…but the shore is a unique environment.
This kite surfer appreciated today's high winds and rough ocean; jumping waves and flying through the air.  Fun to watch.
Also saw a couple hiding colorful plastic eggs near the bird watching platform at the point in Stone Harbor (for a family Easter Egg hunt tomorrow, they said).  Wonder if the wildlife will find the treats inside the eggs before the kids arrive?? 
Happy Easter!