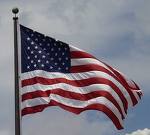 There will be Memorial Day parades in Avalon and Stone Harbor on Monday.
The Memorial Day Parade in Avalon starts at 34th and Dune Drive at 9am.  The parade travels north along Dune Drive to the 21st Street circle- Veteran's Plaza.  Ceremony to follow.
Then, ride your bike to 96th Street in Stone Harbor to see another parade at 12 noon.  Starts by the bridge and ends at the beach with a ceremony.  Refreshments served after the parade at the American Legion Post on 117th Street and Second Avenue.