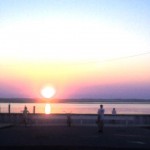 It's that time of year…CLOSED signs in the windows of our favorite businesses.
Springer's and Kohler's closed last week (I'm all set with cinnamon buns in the freezer for Christmas breakfast).  And this was the final weekend for Mack's Pizza.  The owner had a wide grin as he said "see you next year"- he is  looking forward to the winter break.
Another fall tradition- the restaurant owners who commit to staying open year round- or at least through December.  Reality sets in by the end of October, and most change their plans.  The local population is just not able to support more than a handful of eating establishments.  And the weekend business is fickle - effected by weather and activities at home.