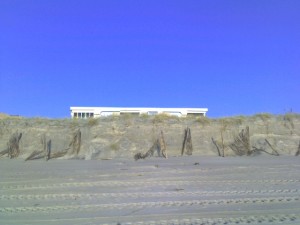 Picture taken this morning just before high tide from the 96th Street beach looking toward the Sanderling Condominium building.  Prior to the recent storms, I could see the 2nd and 3rd floor units .  Now, only the top of the building is visible from the water's edge.
The sand level is lower, but thankfully, there is still some beach and the dunes are in place.
The dredging/beach fill process started today- will work their way north from 111th Street to 98th Street during the next 2 weeks.