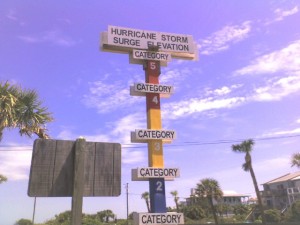 Back from a one week vacation from work (and the computer).
This picture was taken on Tybee Island, GA (outside Savannah).  The colorful pole warns residents and visitors of the potential flood level associated with a hurricane.  Even a moderate category 2 hurricane showed a flood surge over my head! Yikes.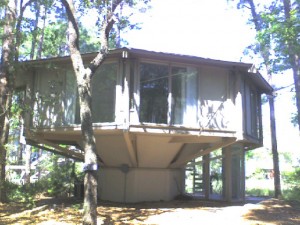 On to unusual real estate (of course I have to study the market in other beach communities):  on Hilton Head Island, there is a small bridge to Deer Island- with free standing "Sea Lofts" along the marsh.  Very different!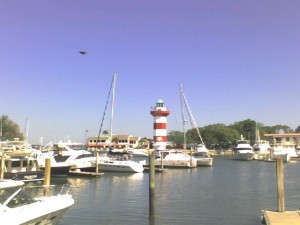 Hilton Head Island is beautiful.  Bike riding is the preferred means of transportation (including along the hard sand on the beach- a real treat with the wind at your back!)
The homes are built to complement the wooded environment- earth tones and natural building materials. 
Driving to work today, I realized the biggest difference between Avalon/ Stone Harbor and Hilton Head Island – the sky.  The trees on HHI block the hot summer sun, but also make it darker on a cloudy day.  I really appreciated the open feel as I drove along Dune Drive this morning.  Good to be back!