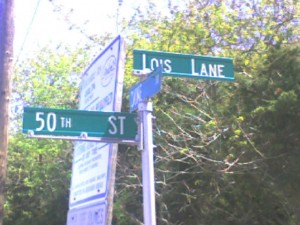 Now I know.  I've passed this sign almost every day without knowing why the 50th Street beach path is called "Lois Lane".  Well, I just met Lois in person, and she shared her story.
10 years ago, her kind 52nd Street neighbors threw her a surprise birthday party and presented the sign as a thank you for her efforts to improve the walkway through the dunes.  The Borough of Avalon worked with the neighbors and granted permission for the new sign.
Lois is very proud of "her" beach path and loves living in Avalon year round.