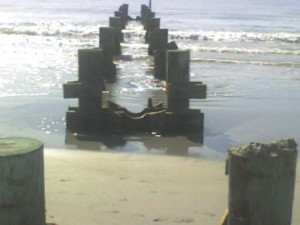 What's missing?  Stone Harbor is in the process of  removing most of the outfall pipes along the beach (a few will remain to drain rain water from the streets).  It's a major construction project to remove the rusty pipes and then the pilings, but it will look so much better when complete.
Some may miss the "beach hurdles"  and the extra exercise on their run

5/1/10 Received this e-mail message from the Realty Owner's Association:
UPDATE TO CONSTRUCTION ON FIRST AVENUE, AND THE OUTFALL PIPES
During the past seven months, there has been significant progress on the plan to remove the six outfall pipes from approximately 99th street to approximately 109th.   In order to accomplish this, the water flow had to be configured through a sophisticated piping system along First Avenue, into an open space between 105th and 106th, down the center of 105th and into the bay.  While 105th  between 2nd and 3rd has been paved, there continues to be a great deal of road construction on First Avenue, and into the open space.   The pipes and the stanchions are currently still in place on the beach
The GREAT news is, however, that both Ken Hawk, Borough Administrator, and Marc DeBlasio, the Engineer in charge of this project, tell us that they are on track with the project, despite the difficult periods this winter.  The following will occur:
The section of 1st Avenue that is being used to reroute the storm water will have a bottom coat of asphalt by the beginning of the  Memorial Day weekend.   The dust and dirt, and poor condition for the heavily trafficked 1st Avenue will at least be usable…a must given our short summer season!  The final top coat will be installed approximately 2 weeks later.
The outfall pipes, and their associated wood pilings will be removed by June 15th, in and around the time the top coat of 1st Avenue is to be complete. 
The open space section between 105th and 106th on the east side of the Island will have all the trucks and piping materials removed, and cleaned as appropriate by June 15th as well.
The ROA will connect with both Ken and Marc during the next month to continue to monitor progress of this very important project.  Both are committed to meeting the needs of the Borough's homeowners as are town council members associated to this effort, and know that the entire outfall pipe project is a priority.  Should you have any questions or concerns, please direct them to the ROA mailbox: sanslabik@aol.com.
Submitted by Jeff Alderton (Realty Owners Association)